New here? We understand how disorienting being new to a church can be and want your transition to life in our community to go as smoothly as possible. We have a variety of connection events and ministries to help you.
Newcomer's Pizza: An informal way to get to know LifeSpring's pastors. Hosted at Pastor Scott's house after church on a Sunday. Contact Pastor Elyse to find out the next date we have scheduled! elyset@lifespringchurch.org
Crazy Daze of Summer: We love to offer lots of ways for our church family to connect over the summer! We offer Neighborhood Summer BBQs throughout the summer at people's homes, as well as all-church gatherings such as Bike to Church Sunday, a swim party at Winona Pool and an all-church picnic.
Crescendo: If you're 55+, our Crescendo ministry is a great way to get connected! Crescendo exists to help people over 55 connect, feel valued and celebrated at Lifespring beyond Sunday mornings. For more information about Crescendo or to find out when their next event is, contact Brenda Thornburg at brendalouthornburg@gmail.com.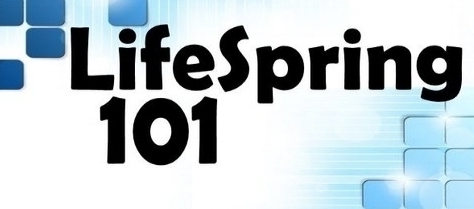 LifeSpring 101 is 4-week interactive class that introduces newcomers to our church & denomination. It's offered twice per year: once in the fall and once in the spring. To find out the next time the class is being offered, contact Elyse at elyset@lifespringchurch.org.
LifeSpring 101 is also the first step in becoming a member.
LifeSpring has a variety of small groups that meet throughout the week. Some meet in homes and others meet here at the church. They discuss something together (either the sermon from Sunday or a curriculum or book) and are a great place to create community at LifeSpring outside of Sunday mornings.
There are groups for families and singles young and old, as well as men's groups. Our hope is that everyone in our congregation has the opportunity to process their life with God with others. If you would like to join a small group, we would love to point you in the direction that would be the right fit! Contact Pastor Elyse for more information: elyset@lifespringchurch.org